Principal's Desk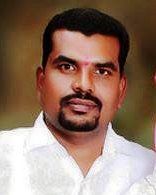 Prof.Ganesh S.Pokale
Education means development of personality and attitudes. Educational time is the most important time in student life, because in this time they are develop psychological, Social & mental skill. In this process it includes honesty, selfless, Co-ordination, Ability of work.
Education is not only stress on knowledge & intelligent but also life of students. Education is tools. That tool is not limited for scope of education but they are make good citizen. This Citizens are make good nation.
Students personality developed by reading habit. Student get the information to the various subjects through only on reading. student read the books & express their feeling using good language. Library is the Mirror of College. Student of the Library & information Science is expert to the all subject. That's why Library &Information science is the different Subject to the another subject. Librarian is called teacher's of teacher because he provided the research information to the professor & students.
Management is critical Ingrediant in the nation economics & social development. Management is the single most critical social activity in connection with economic process. Efficient Management is the key to national growth. Countries development depends upon good Management.
In modern world computers are used in every sector which are business, Medicine, Health care, Education science, Engineering. Architecture, Manufacturing, legal practice, govt. Military, Music. Theatre. Film & So on.
The Present challenge of education in India is to integrate Information Technology with the curriculum, Transaction and empowerment of youth to enable them to function effectively in a world that is going to be increasingly Information and Technology driven.
Sambaji Raje Library & Management has accepted this challenge to Build up technology. We are committed to provide equal opportunities to students especially from weaker and depressed classes to prepare them for making increasingly complex global society & future development. 
Come And Join Us For Your Bright Future